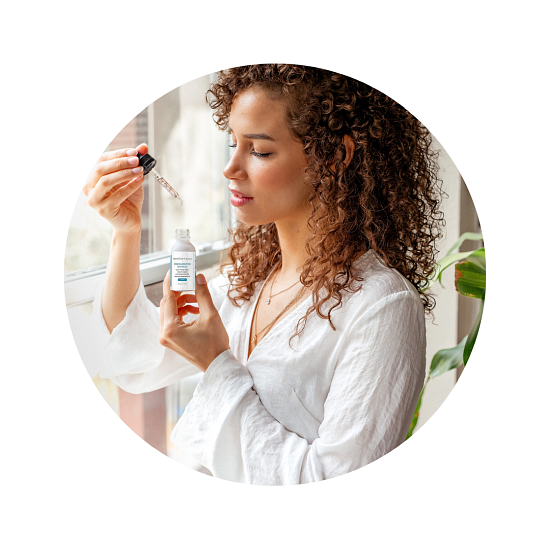 Dr. Ricks decided he wanted to make SkinCeuticals products available at Radiance Medical spa, because he was so impressed with the years of research behind their game-changing antioxidant serums, particularly the most popular one – C E Ferulic. The mission of SkinCeuticals is to improve skin health by providing advanced skincare backed by science. Born from decades of skin cancer research that led to pivotal breakthroughs in antioxidants, these high potency formulas are concentrated in pure actives and proven to penetrate optimally into skin. Made in the USA, this line of clinical skincare is used for daily homecare and to complement aesthetic procedures. It has been formulated to correct signs of aging, protect healthy skin, and prevent future damage.
What is the difference between medical-grade skincare and over-the-counter skincare?
SkinCeuticals is a medical-grade skincare line. Medical-Grade Skincare is superior to over-the-counter skincare (purchased through a retail or drug store), because these products have much higher concentrations of active ingredients, and are formulated to penetrate deeply into the skin to stimulate cell turnover and production of collagen and elastin. Many years of clinical research are invested into medical-grade skincare lines to scientifically prove that they get results treating many different skin concerns from skins of aging (lines, wrinkles, age spots, discoloration), to acne, scarring, etc. These products must be purchased from a medical professional to ensure that you are using the appropriate product for your skin. Over-the-counter skincare can be purchased from and used by anyone because they have a low level of active ingredients (they are often made up mostly of water and fillers with very small percentages of active ingredients). Over-the-counter products can have attractive price tags, but rather than having to purchase multiple products that don't work, we recommend investing in a medical-grade product that can more effectively treat your skin concerns. And just because a product is expensive does not mean that it will be effective: don't be deceived by elegant packaging at a high-end retail store!
What is the go-to SkinCeuticals product for Dr. Ricks?
Definitely C E Ferulic. As a dermatologist, reversing damage caused by the sun is a huge priority for Dr. Ricks and this tried and true antioxidant definitely delivers! C E Ferulic features an antioxidant combination of 15% pure vitamin C (L-ascorbic acid), 1% vitamin E (alpha tocopherol), and 0.5% ferulic acid to enhance protection against environmental damage caused by free radicals that can contribute to atmospheric aging. C E Ferulic is now proven to reduce combined damage generated by UVA/UVB rays, ozone pollution, and diesel engine exhaust by up to 41%. In addition to antioxidant protective benefits, C E Ferulic improves signs of aging and photodamage, the appearance of lines and wrinkles, and the loss of firmness, while brightening skin's complexion. It is appropriate for normal, dry, and sensitive skin types!
Our Other Favorites:
Tinted Sunscreens: SkinCeuticals has two tinted sunscreens that we love. Physical Fusion UV Defense is a lightweight, tinted sunscreen which enhances your natural skin tone to boost the appearance of radiance. Physical Matte UV Defense is a mineral sunscreen which absorbs oil through the day and gives the skin a matte finish. Both provide broad-spectrum protection and are SPF50.
Triple Lipid Restore 2:4:2: This product is our favorite anti-aging moisturizer! It helps restore the skin's external barrier and supports natural self-repair, while nourishing aging skin and improving the appearance of skin smoothness, laxity, pores, and overall radiance.
A.G.E. Eye Complex: This silky eye cream improves the appearance of dark circles, puffiness, and crow's feet. It also includes optical diffusers to diffuse light and immediately improve the radiance of dull, tired-looking eyes.
H.A. Intensifier: Hyaluronic acid is the body's natural hydrator. It is capable of holding 1,000 times its own weight in water. This serum amplifies the skin's hyaluronic acid levels by 30%, which delivers powerful surface hydration, helping improve the visible appearance of firmness, smoothness, and facial plumpness.
Contact Us for Consultation