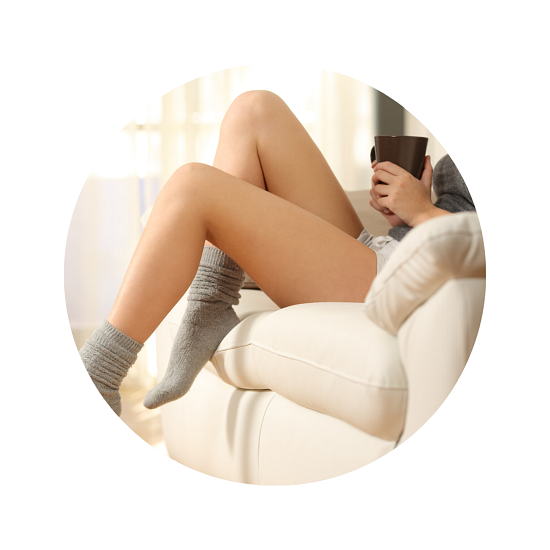 DiolazeXL is an advanced laser hair removal procedure that safely and gently eliminates unwanted hair. It has one of the largest treatment spot sizes, making treatments convenient and fast. It is more comfortable than other devices on the market because the built-in skin cooling surface is one of the largest for all hair removal devices.
Am I a good candidate for laser hair removal?
Dark hair is most effectively treated, because the light emitted from the laser is attracted to the melanin, or dark pigment, in the hair follicle. Red and gray hair can be very difficult to target, and blonde hair cannot be effectively treated with DiolazeXL. During the initial consultation, your skin type, hair color and skin sensitivity will help us determine a personalized treatment plan to ensure beautiful, smooth results that you'll love.
What areas can be treated?
DiolazeXL can be safely used on most areas of the body that have unwanted hair. The most commonly treated areas include bikini, legs, arms, chest, back, shoulders, stomach, neck, chin, and sideburns.
What does the treatment feel like?
DiolazeXL has a built-in skin cooling surface which is one of the largest for all hair removal devices. This makes treatment more comfortable than other devices, with most patients noting that Diolaze is virtually painless.
Who performs this treatment?
All Laser Hair Removal treatments are performed by one of our well-trained skincare professionals. They are extensively trained before performing our treatments and are overseen by Dr. Ricks.
How many treatments are required?
With each treatment, hair is reduced and best results are observed after four to six sessions. This is because laser hair removal works best when hair follicles are in their mature stage, however, at any given time, your hair is in various stages of growth. The number of sessions will vary depending on your hair color, hair type, body area, and skin tone.
What are the risks?
The risks of DiolazeXL are very minimal. It is a lunchtime procedure with no recovery time. As with every procedure, our staff walks each patient through a detailed consent form that explains all the possible risks.
Is there any downtime?
None!
Is maintenance required?
For most areas of the body, we recommend getting one maintenance treatment every year to maintain smooth, hair-free skin. For hormonal facial hair growth, more consistent maintenance may be required.
How much does it cost?
Pricing varies based on the body area we are treating. Consult with your provider to determine the cost for your treatments and find out what package and payment plan options are available for you.
To learn more, watch the following video:
Contact Us for Consultation