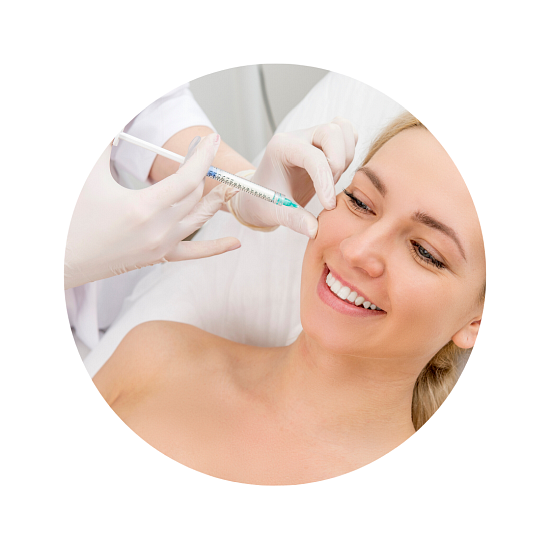 We use the Juvederm Collection of Dermal Fillers at our office, which are composed of hyaluronic acid. Hyaluronic acid (HA) is a natural substance in the body that delivers volume to the skin. Getting treated with Juvederm helps add volume to different areas of the face without surgery while also temporarily restoring the volume loss beneath the surface. It literally "fills" areas such as creases, folds, flat and hollow areas, to create a smoother and more youthful appearance.
Am I a good candidate?
Anyone with concerns about signs of aging is a good candidate! Schedule a consultation with one of our providers to see if this is the right treatment for you.
Could I be allergic to Juvederm?
Allergies to Juvederm are extremely rare; the body recognizes that hyaluronic acid is not a foreign substance.
What areas can be treated?
Nasolabial folds (smile lines), marionette lines at the corners of the mouth, flat, sunken, or hollow cheeks, thin lips, and more!
What does the treatment feel like?
We have several different options to help with numbing the area of treatment; our provider will discuss these with you and choose the most appropriate option! There will be a series of injections, and then the injector will have you ice the area on and off for the rest of the day. You may feel some tenderness in the area after the treatment.
Who performs this treatment?
All Dermal Filler treatments are performed by Tatum Toland, APRN or by Dr. Voica. They are both extensively trained, continuously educating themselves on new developments and techniques, and have many years of experience.
How long does filler last?
Longevity depends on which of the Juvederm fillers the injector chooses to use. These fillers can last from six months to two years. Our injectors will discuss all of the different filler options in your consultation and help you choose which one is appropriate for your needs.
Are there any side effects?
Common side effects include swelling, bruising, brief redness, and tenderness. These side effects resolve quickly.
When will I see results?
Your results will be noticeable right away after your treatment, however it takes about two to three weeks to see your final result (because you may have some visible swelling and bruising at first).
Is maintenance required?
Juvederm slowly dissolves over time, so in order to maintain results you will want to be treated periodically. Discuss the proper treatment schedule for your needs with your provider.
How much does it cost?
Pricing varies based on which Juvederm filler your injector uses and how many syringes you will need. Consult with your provider to determine the cost for your treatments and find out what package and payment options are available for you.
Contact Us for Consultation